About me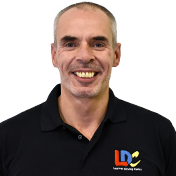 Hi I'm Brian, I am a fully qualified Government Approved Driving Instructor (ADI) and I am passionate about road safety, coaching and developing others. If you are looking for driving lessons in the Gloucester and Stonehouse areas, please contact me for more details.
I moved to Gloucester in 2008, and live in the Kingsway area with my wife Tracy and 4 children Kaya, Quinn, Tru and Hunter. In my spare time (rare, with 4 children!) I like to relax with a game of snooker, exercise or settle down for a good film with my wife. I am also learning to play the piano (definitely still a work in progress).
My career until this point has been in Retail Management, with my favourite role by far being the Learning and Development coach for aspiring Managers and supervisors wishing to better themselves. I get immense satisfaction from helping others achieve their goals and develop personally as individuals.
After helping my eldest daughter with some "Driving school of Mum and Dad" support alongside her lessons, I felt this was a career I really wanted to pursue. I chose the LDC team for my training, as they share similar values to my own around putting the learner firmly at the heart of the business, and developing safe driving for life through support and coaching alongside instructing.
I have been trained by LDC in the latest adult coaching and training techniques so you can be assured the training I give will be of the highest standard.
Everybody is different and the unique LD System allows for flexibility in lessons so that you learn to drive safely at a rate that suits you. I am experienced in adapting to many different learning styles, and supporting people of all ages. I aim to make every lesson enjoyable and as productive as possible. The LD System helps me to do this more effectively.
Lessons are always conducted in a calm, friendly and relaxed manner as I firmly believe in making pupils feel at ease during lessons.
Thank you for taking the time to get a brief idea about me. Please feel free to click here to"Contact me"
Call today on 07584 661276 or Email me to find out more
If you have any questions or to book lessons today, feel free to contact me